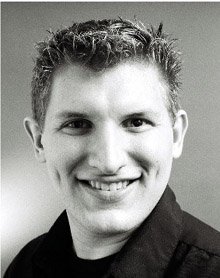 Gerrod Pagenkopf has been touted by the Houston Chronicle as having "an elegant bearing and a sweet, even sound." Mr. Pagenkopf made his Amarillo Opera debut in October 2008 as Prince Orlofsky in Die Fledermaus. Other opera credits include Rinaldo (Rinaldo), Oberon (A Midsummer Night's Dream), the Refugee (Flight), Tolomeo (Giulio Cesare), Satirino (La Calisto), Arsamenes (Serse), Public Opinion (Orpheus in the Underworld), the Sorceress, 2nd
Witch, and Messenger (Dido and Aeneas), and Actéon (Actéon).
As a concert soloist, Mr. Pagenkopf is a core artist with Ars Lyrica Houston, and has performed with ensembles including the Mercury Baroque Ensemble, the Bach Society of Houston, the Houston Chamber Choir, the Dominic Walsh Dance Theater, Several Core Performance Dance Company, Ballet Florida, Orchestra X (Houston), and the Green Bay Symphony. Mr. Pagenkopf has performed as soloist in such masterworks as Handel's Messiah and Israel in Egypt; Bach's Passions, Magnificat and Mass in B Minor; Vivaldi's Gloria and Dixit Dominus; as well as numerous cantatas, oratorios, and other liturgical works of Scarlatti, Caldara, and Telemann.
In the near future, Mr. Pagenkopf will perform with the Festival de Musica Barroca de San Miguel de Allende in Mexico and in Vermont as Orlando with the Green Mountain Opera Festival.
A native of rural Wisconsin, Mr. Pagenkopf received his Bachelors degree in Music Education from the University of Wisconsin at Madison, and his Masters of Music in Voice Performance from the University of Houston, where he was a
graduate fellow with Professor Katherine Ciesinski. Mr. Pagenkopf currently resides in Boston.
To learn more about Gerrod Pagenkopf, visit his website.